The page may not load correctly.
Dr.Web Enterprise Security Suite
A highly intelligent anti-virus and anti-spam protection system for large volumes of email traffic.
Pomożemy Ci w wyborze produktu Dr.Web
Advantages
Minimal TCO

Dr.Web can run on standalone servers as well as on partition servers or Lotus Domino clusters. The copies of the anti-viruses on the different partitions run as separate processes in the RAM but use a single database and the same executables. In this case only one copy is subject to licensing, which significantly reduces the costs of anti-virus protection.

Ready for IBM Lotus software

Dr.Web has achieved "Ready for IBM Lotus" software validation and is included in the IBM Lotus Business Solutions Catalog. The validation confirms Dr.Web's compatibility with Lotus Domino and attests that it meets all of IBM's compatibility requirements.

Exceptional resistance to viruses

Dr.Web can be installed on an infected Lotus Domino server and is capable of curing it without resorting to using any additional utilities. All databases can be scanned on demand right after installation. To ensure maximum scanning efficiency, the virus databases can be updated prior to a virus check, allowing the latest virus definitions to be used for scanning.

High-speed scanning

The efficient organisation of Dr.Web for IBM Lotus Domino, a special scanning algorithm, and the flexible administration of the scanning process ensure high-speed and resource-efficient scanning. Multi-threaded scanning enables the anti-virus to process huge amounts of data simultaneously. This advantage allows Dr.Web to run smoothly on virtually any server hardware.

Simple installation and flexible configuration

Dr.Web's deployment is easy and automatic. The program supports administrative scripts and has detailed documentation. Flexible configuration via the administrator console ensures convenient management. The anti-virus's action algorithms can be fine-tuned according to scan results, making it possible to notify a sender, recipient, and system administrator about detected viruses; store the headers of received messages and attachments; and so on.

Easy administration

Grouping and group management significantly simplify the administration of the anti-virus software. Individual settings can be set for each group. The same settings can also be specified for several groups by editing the corresponding profile.
Features
Scanning of all components of e-mails for viruses and spam, and filtering of spam real-time or as scheduled by an administrator
Filtering of spam including filtering of messages according to black and white lists
Anti-virus scan of documents in specified nsf bases
The manual scanner jobs launch-and-stop feature provides on-demand scanning of objects
Parsing of e-mails for further analysis
Curing infected messages and their attached files
Detection of malicious objects compressed with multiple archivers
Detection and neutralization of viruses disguised with unknown packers
Additional technology that can detect unknown threats increases the likelihood that the newest species of malware will be detected
Storage of infected and suspicious objects in the quarantine (accessed with Lotus Notes)
Reports are generated using templates that are easy to read
Operation logging
Protection of its own modules from failures
Automatic updates
How it works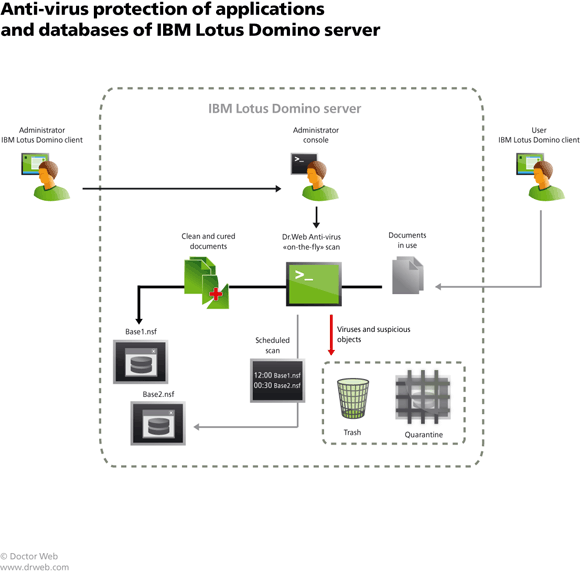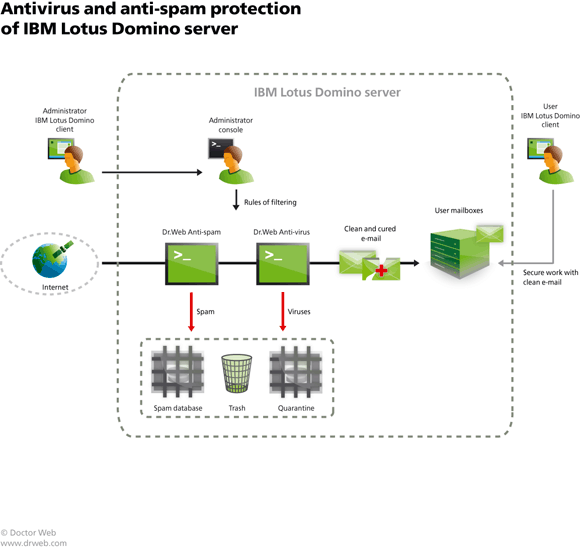 Efficient filtering of unsolicited emails
Dr.Web Anti-spam is delivered as part of a single solution (not as a separate product) and is installed with a virus-filtering product on the same server. This simplifies administration and ensures that overall costs are lower than they would be if buying our competitors' solutions.
Requires no training. Starts protecting as soon as it is installed.
Successfully identifies spam messages in any language.
Actions can be customised for different categories of spam.
Record-low number of false positives.
Requires updating only once a day.
Uses its own blacklists and whitelists. This makes it impossible for anyone to discredit companies by deliberately adding them to lists of unwanted addresses.
Product system requirements can be found in the documentation.