The page may not load correctly.
Dr.Web Anti-virus for Android
Protects against all types of malicious programs created to infect mobile devices.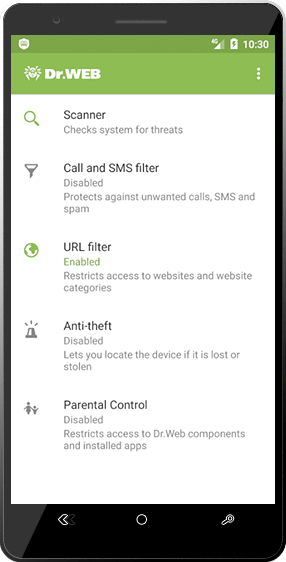 Performs quick or full file system scans as well as custom scans of user-specified files and folders.
Using the unique Origins Tracing™ technology, detects new, unknown malware.
The SpIDer Guard monitor scans file systems in real-time whenever an attempt is made to store files in the device's memory.
Moves detected threats to the quarantine from which isolated files can be restored.
And also:
Minimally impacts system performance.
Economises battery resources.
Economises traffic due to the small size of the virus database updates, which is particularly important for users whose mobile device plans have usage limits.
Collects statistics on detected threats and actions performed.
Offers handy and informative desktop widgets for accessing the application.
Important! Today's malicious programs try to gain root access in compromised systems in order to make it much more difficult to remove them. With root privileges, they become invulnerable to anti-viruses running with the permissions of ordinary applications. Such malware includes Android.BackDoor.240.origin and Android.DownLoader.155.origin. The Light version of the anti-virus cannot neutralise such threats. Use the full version of Dr.Web!
Don't have a Dr.Web license yet?
The following licenses include Android protection